We packed the lovely Helen Boast on her way off to Austin, Texas last week to snap a photo journal of events at the SXSW 2012 music festival. SXSW is always an impressive affair with more showcases, parties, barbeques, and cupcakes than any person could rightly ever get to – but most importantly it is always a whirlwind of new music.
This is how she got on…
(Words by her trusty sidekick Laura Studarus from Under The Radar)
Nutrition is crucial at SXSW. It's important to consume enough calories to stave off excessive weight loss. Even with multiple trips to Hey Cupcake, and a diet of pizza, gin, and cookies, I still managed to loose five pounds in five days. It's tragic, really.
You know that feeling like advertising is everywhere at a festival? As though even the porta-potties have sponsorship, and advertisers are clamoring to rent out space in your dreams? Yeah, me neither. My brain has an excellent spam filter.
In all honesty, I can't talk about Swedish electro-popstars Niki & the Dove without slipping into a state of major fan girl. One of my jobs at Under the Radar is to live tweet our parties. I had to stop halfway through Niki & the Dove's set after being overtaken by tears and a desire to propose marriage.
I've been a fan of Fiona Apple since high school, so finally seeing her live was a treat. I just wish she hadn't been so nervous. Her voice is still incredible, and she emotes like few performers I've ever seen. Currently trying to figure out how to send Fiona some form of inspirational poster.
I can't really speak to Cool Kids' set, as it's not my cup of tea. (Not even close.) But can we talk about this stage? I'm terrified this might be the most accurate metaphor for America I've seen—even more so when I walked by it at 2am and the display to the far right read "Rickrolled." Side note: The chips were terrible. (Side side note: On my first post-SXSW shopping trip I came very close to buying Doritos. I hate you marketing geniuses.)
Perhaps my greatest regret was that we never had a Bill Murray sighting at SXSW. (Well that and eating French fries after midnight. Twice.) A friend did report seeing him dancing on top of a bar at Jack White's showcase—so I guess all is not lost. Still waiting for photos though.
There were few boobs and much cheese at this shop. We had to shout over the metal to order our slices—but judging by the look on our salesgirl's face, whatever "music" we were treated to was the heavy metal equivalent of easy listening. Ahh… sweet tunes for dinner hour.
Will someone please turn Zambri into stars already? Brains, beauty, attitude, and some of the spookiest tunes I've heard at a daytime festival. One band member is married to the frontman from Hooray For Earth, the other is dating a member of Bear in Heaven. I'm prepared to go on some form of hunger strike until they agree to form a super group. Or at least tour together.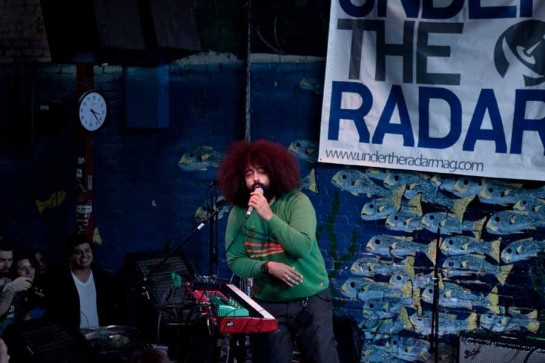 I once drove Reggie Watts around in my car. He sat in back, his glorious afro filling my review mirror, singing and telling jokes so ridiculous I had to wipe away tears and threaten to pull over to keep from killing us all. I'm glad I didn't crash – we wouldn't have gotten to witness this.
The chemistry between the Slow Club duo is unbelievable. Half the time their music is so sweet you forget that they're talking about darkness and death. Thankfully drummer/singer/multi-instrumentalist Rebecca Taylor wore an appropriate t-shirt. ::Throws devil horns and inappropriately rocks out::
The photo to the far right is dear friend of ours who flew in from Poland to attend the fest. It's a blast hearing a multitude of languages and accents all crammed into downtown Austin. Sort of like the UN of rocking out.
I choose to believe We Are Serenades' hair just sprouts from their head in a perfect shade of green. But just in case it didn't, I avoided the green beer.
By the last day of SXSW I was so tired I was convinced I was in a waking dream. Blouse is an excellent jam for that sort of mental state.
Yes, exhaustion is truly an interesting experience. We walked by this creature three times before realize he was not your average violinist. Then again, maybe he is… it's been awhile since I've been to the symphony.
If you'd like to see more of what Helen got up to then check out the gallery:

Read More